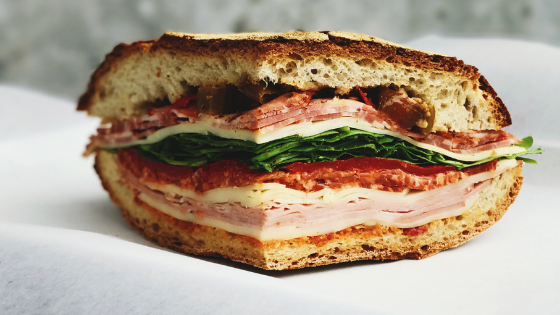 The last thing many of us want to do when it gets hot is to stand in front of a stove for an extended time period. Sandwiches are a great way to have a fulfilling meal without a lot of prep work. That is why we are providing these ideas to residents of The Tribute apartments in Raleigh, NC. All of these sandwiches take less than fifteen minutes to prepare and can be served with chips or potato salad as a side!
Pastrami With Slaw
There is nothing like a classic pastrami sandwich when you come in from a long day. The following version also comes with a delicious homemade slaw that you can use to top it off!
Ingredients
1/2 cup shredded red cabbage
2 tablespoons apple cider vinegar
1 teaspoon sugar
1 teaspoon chopped dill
1 tablespoon yellow mustard
1 teaspoon horseradish
1 onion roll
4 ounces sliced pastrami
Mix the shredded red cabbage, apple cider vinegar, sugar and chopped dill in a bowl and let it sit for 10 minutes. Combine the mustard and horseradish and spread it onto a split onion roll, then fill it up with your pastrami.
Roast Beef With Smoked Gouda
Serve yourself and your friends this delicious option when you find yourself craving a protein fix. The Gouda cheese adds an extra element of flavor to this mouthwatering sandwich.
Ingredients
1 tablespoon honey mustard
2 slices smoked Gouda
2 slices of challah bread
One handful of romaine lettuce
4 ounces roast beef
Spread the honey mustard on your two slices of challah bread. Place your lettuce, Gouda, and roast beef between the two slices. Add a pickle on the side for extra enjoyment.
Tomato and Mozzarella
Vegetarians and others looking for a meat-free meal will enjoy this option.
Ingredients
1/3 cup cherry tomatoes, quartered
1/3 cup mini mozzarella balls
1/4 cup roasted and chopped red pepper
2 tablespoons olive oil
1 tablespoon chopped basil
1 sub roll
Combine the cherry tomatoes, mini mozzarella balls, chopped roast pepper, minced shallot, olive oil, and red vinegar in a bowl and set it aside for 10 minutes. Next, add the basil to the mixture and then spread the mixture on the inside of your sub roll.
Are you interested in more sandwich ideas? Feel free to contact The Tribute apartments in Raleigh, NC at (866) 286-4869 for any of your needs.