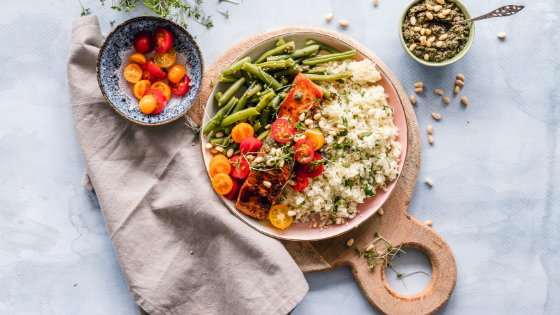 Planning out a healthy meal for dinner is not always a time-consuming process. You can enjoy a healthy meal in Raleigh, NC apartments without spending hours in front of the stove. The key is having a few ideas and focusing on the ingredients you keep in your home.
Baked Sausage and Vegetables
A quick meal when you do not have time to waste is a baked sausage and vegetable dish. Pull out a baking dish and line it with foil. Dice up any vegetables you prefer, such as broccoli, squash, or green beans. You can put a few different vegetables in the pan. Dice up your favorite sausage and add it to the pan. Season with salt, pepper, oregano, and garlic or garlic salt. Put the dish into a pre-heated oven and bake until your vegetables are tender.
Salmon and Greens
Salmon is a healthy and fast meal option. Get out a large non-stick skillet and warm it up on the stove. Add oil to the pan and then add your salmon to the pan. Cut up your favorite greens, such as broccoli, or use asparagus. Place it on the other side of your pan. Allow your salmon to cook about five minutes and then flip it to the other side. Add one clove of garlic to the pan and top your salmon and greens with salt and pepper. You can also squeeze some lemon juice for a splash of flavor. The meal takes only ten minutes to cook and is a healthy option when you have limited time for dinner.
Pita Pizzas
Pita pizzas take around 15 minutes to cook, but they offer a healthy alternative to a traditional pizza. Pre-heat your oven to 400 degrees Fahrenheit. Spread your pitas on an oven-safe baking sheet and place them into the oven for 3 minutes. While you have the pitas in the oven, mix ground beef, cumin powder, coriander powder, chopped onions, garlic, hot sauce, salt, pepper, and lemon juice in a bowl. Remove your pitas from the oven and flip them to the other side. Spread your beef mixture over the pitas until it covers the edge. Bake the pitas and beef in the oven until your pita becomes golden brown and your beef is sizzling. It takes around 10 to 12 minutes. While you bake the pita pizza, dice up some onions, toss them with olive oil, and then keep them aside. When you pull the pizzas out of the oven, drizzle yogurt over the top and add your fresh onions and arugula.
A healthy meal does not need to waste hours of your time. You can make a good meal within a few minutes when you have a few ideas of where to start. To learn more about quick dinners in apartments in Raleigh or to see a rental space, contact us today.