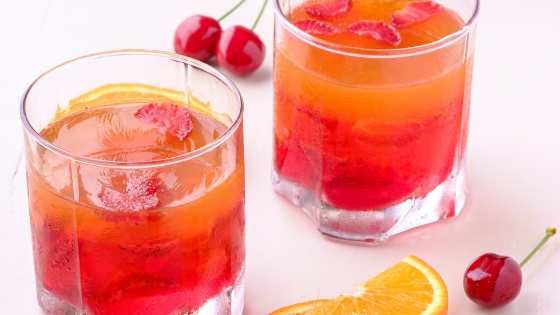 What could be more refreshing than a fruit cocktail on a hot summer's day? These drinks are a great way to rehydrate. Best of all, summer is the time for fresh fruit and herbs, letting you experiment with exciting new flavor combinations. Planning a party? Many of these recipes can be combined with your favorite wine or spirit.
Tropical Mojito
The mojito is traditionally made with crushed mint, lime juice, club soda and rum (optional). Add a tropical twist with pineapple juice. Take it to another level by swapping out ice for chunks of frozen mango or starfruit.
Fruity Spritzer
White wine's light, fruity character makes it a great pairing with this fun cocktail. Combine different berries (traditional choices are blackberries, blueberries, strawberries, and raspberries). Muddle them together, then add sweet white wine.
More Than Mimosas
Summer brunches aren't the same without mimosas, but you don't have to stop at the same old Champagne and orange juice. For an exciting twist, try swapping out the citrus element. Sweet and fragrant Key limes work well here along with grapefruits, clementines, etc.
Blackberry Margaritas
Sweet yet tart blackberries balance out the bitter notes of tequila in this cocktail. Combine frozen blackberries with tequila, triple sec, sour mix, orange juice, lime, and prosecco.
Ginger Ale for Grownups
Nonalcoholic cocktails don't need to be light on taste. Try mixing dry ginger ale with ginger syrup. Chill well before serving with lots of ice in the glasses. Don't have any ginger syrup on hand? This is easy to make on your own. Just boil the grated ginger root in a mix of equal parts water and sugar and strain.
Cantaloupe Agua Fresca
Summer means cantaloupe season is here, and this recipe makes the most of this melon's flavors. Simply blend cantaloupe with sugar and add to seltzer water.
Taste the Sweet Life in Raleigh, NC
You've got the refreshments. Now, do you have a place to host a fun summer party? The Tribute's apartments in Raleigh, NC, put you in the heart of this town's action. Whether you prefer small, intimate get-togethers or a bigger celebration, we have a floor plan to suit you. Contact us to learn about our application process.