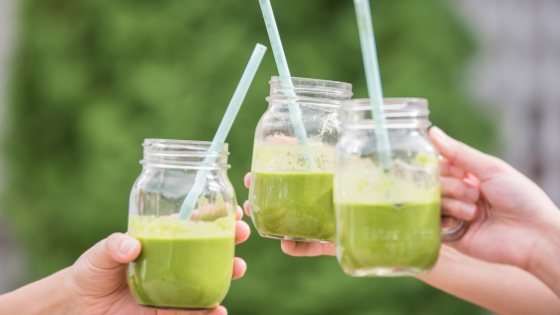 Green smoothies are a great way to have a healthy, refreshing treat during the day. That is why we decided to provide residents of The Tribute apartments in Raleigh, North Carolina, with some great ideas to try out at home. The only thing you need is a working blender and a healthy appetite. Enjoy them for yourself or share them with friends and family.
Green Smoothie With Grapefruit
The great thing about this smoothie is that it is low in calories and sugar. You can enjoy something delicious that is also good for you!
Ingredients
3 peeled and sectioned grapefruit
1 cup of cold water
3 ounces of fresh spinach
6 ice cubes
1 ½ piece of fresh peeled ginger
1 tsp of flax seeds
Place all your ingredients together in a blender or other mixing device, like a — NutriBullet® — until you get a smooth mixture.
Total Calories: 201
Banana Berry Green Smoothie
Using frozen fruit makes your smoothies sweet without requiring additional sugar. We like this version because it is easy to change up with your favorite fruits.
Ingredients
1 cup frozen bananas
½ cup frozen blueberries
½ cup frozen strawberries
1 cup fresh spinach
½ tbsp ground flax seeds
Place everything into a high-speed blender or other mixer and blend until smooth. You also have the option of adding a half cup of milk or another substitute (almond, soy, etc.) for variety.
Total Calories: 150
Pineapple Kale Smoothie
Try out this green smoothie when you are in the mood for something a little more tropical. Try having it for breakfast for a healthy start to your day.
Ingredients
¾ cups unsweetened vanilla almond milk or another milk type
2 cups packed, lightly chopped kale leaves with stems removed
¼ cup of plain non-fat Greek yogurt, any brand
1 frozen banana broken into chunks
¼ cup of frozen pineapple chunks
2 tbsp peanut butter, crunchy or creamy
1 to 3 tbsp of honey for taste
Place all the above ingredients in your mixer and blend until smooth. You can add more milk as needed until you get the desired consistency.
Enjoy Your Healthy Treat
We hope community members of our Raleigh, North Carolina, apartments, The Tribute, enjoy our recipes. Let us know what you think about them or anything else related to your residence by contacting us at (866) 286-4869.