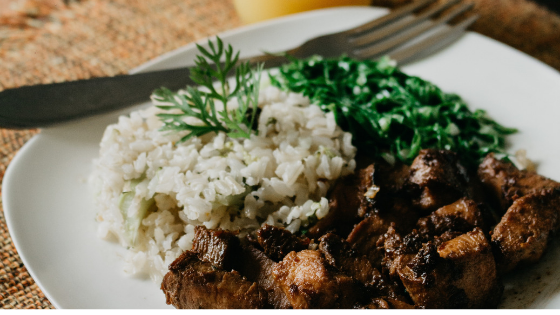 If you work near apartments in Raleigh, going out for lunch is undoubtedly convenient (and usually just as tasty). You probably have your own workday favorites that have taken you months to find. But between drink, tax, and tip, lunch can get expensive after a while.
We're not saying you have to stop going out to lunch entirely, but there's no reason you can't enjoy a great meal that's both easy to make and just as good as anything you'll get at a food truck or quick-serve restaurant. Here are three ideas to get you going.
Linguine with Bacon, Peaches, and Gorgonzola
It's hard to go wrong with the salty and sharp combination of bacon and Gorgonzola on pasta, but the peaches add a little extra brightness to the richness of the two heavy hitters. What's great about this dish is that it's just as delicious heated up as it is served cold. So even if you don't feel like waiting in the break room for the microwave, you can just enjoy it straight from the container.
Firecracker Chicken and Rice
Similar to what you might see in the frozen section of the grocery store, this version comes without the preservatives and extra sodium. Firecracker chicken and rice has a simple but powerful sauce that infuses each bite with plenty of punch. Make a batch and freeze the other servings in one-time portions so you have a flavorful lunch whenever the mood strikes.
Lentil Salad
When you're looking for a cheap and healthy meal that's packed with flavor, this lentil soup definitely does the trick. The mint gives it a refreshing quality that's perfect for summer days when your stomach can't handle anything too heavy. This recipe recommends hard-boiled eggs and baguettes to work in some extra flavor dimension and protein.
Bringing lunch to work definitely takes some effort, but your wallet and your waistline will really thank you after a while. If you're looking for a new place to cook all of your favorite recipes in Raleigh apartments, consider The Tribute. Our kitchens are spacious and modern enough to get any home chef on their way. Give us a call today to learn more about our facilities or to schedule a tour.